Jubilee of the canonization
Versión española abajo – English version down – Version française ci-dessous
ORIGINAL IN ITALIAN
Il 18 luglio, alla celebrazione in onore di San Tommaso, a Fossanova, ha partecipato fr Antonio Cocolicchio, OP, Priore Provinciale della provincia Romana di santa Caterina da Siena a cui apparteneva l'Aquinate. Insieme al loro Provinciale c'era anche un gruppo di frati, suore e laici domenicani che hanno preso parte alla santa Messa col desiderio di ringraziare il Signore per il dono della vita, la santità e la dottrina del dottore Angelico.
Il sentimento che ci ha uniti tutti è stato di profonda e gioiosa gratitudine solecitati anche dalla bella omelia tenuta dal delegato papale, che ha tracciato il profilo umano e spirituale del doctor comunis alla luce del suo impegno intellettuale, che ha guidato la predicazione e l'insegnamento di tutta la famiglia domenica da ben settecento anni!
Come famiglia di s. Domenico, sul esempio glorioso del illustre confratello s. Tommaso, continuiamo a servire Cristo nei fratelli guidati dal Maestro interiore!
Anna Tatar, OP
Responsabile della formazione dell'ECLDF
Provincia Romana di santa Caterina da Siena, Italia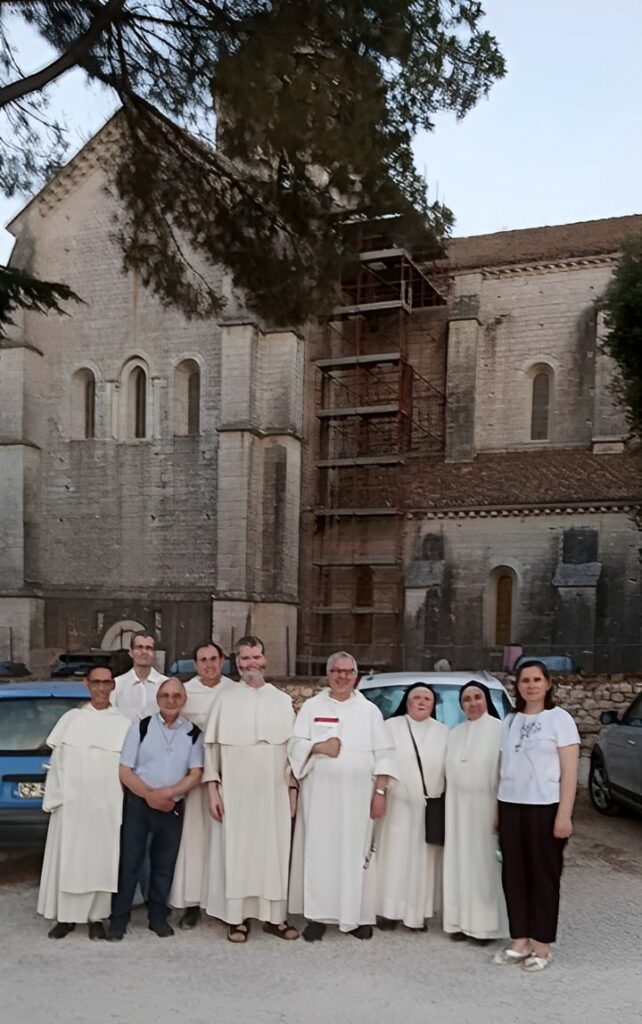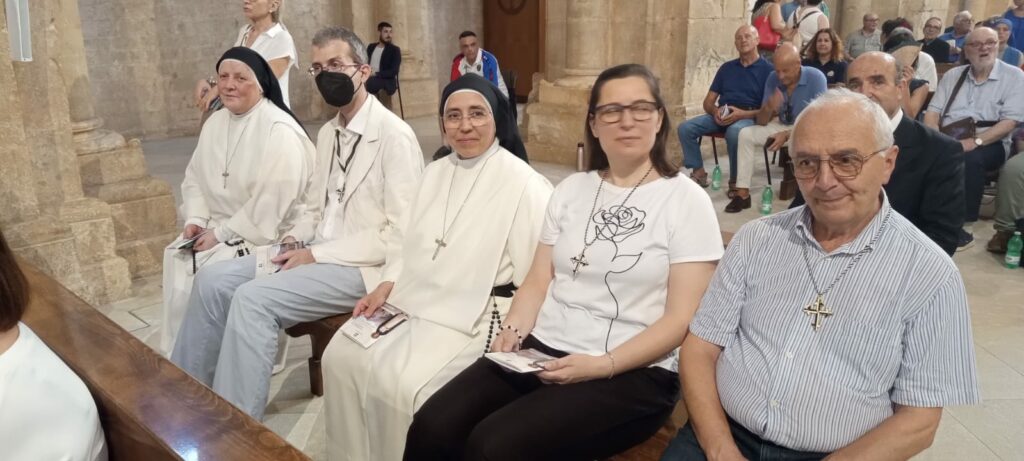 ---
El 18 de julio, la celebración en honor de Santo Tomás, en Fossanova, contó con la presencia de Fr. Antonio Cocolicchio, OP, Prior Provincial de la Provincia Romana de Santa Catalina de Siena a la que pertenecía Aquino. Junto a su Provincial se encontraba también un grupo de frailes dominicos, monjas y laicos que participaron en la Santa Misa con el deseo de agradecer al Señor el don de la vida, la santidad y la doctrina del Doctor Angélico.
El sentimiento que nos unió a todos fue de profunda y gozosa gratitud solemnizada también por la hermosa homilía pronunciada por el delegado papal, que trazó el perfil humano y espiritual del doctor communis a la luz de su compromiso intelectual, ¡que ha guiado la predicación y la enseñanza de toda la familia dominicana durante setecientos años!
Como familia de Santo Domingo, siguiendo el glorioso ejemplo de nuestro ilustre hermano Santo Tomás, ¡continuemos sirviendo a Cristo en nuestros hermanos y hermanas guiados por nuestro Maestro interior!
Anna Tatar, OP
Responsable de la Formación del ECLDF
Provincia Romana de Santa Catalina de Siena, Italia
---
On 18 July, the celebration in honour of St Thomas, at Fossanova, was attended by Br Antonio Cocolicchio, OP, Prior Provincial of the Roman Province of St Catherine of Siena to which Aquinas belonged. Together with their Provincial there was also a group of Dominican friars, nuns and lay people who took part in the Holy Mass with the desire to thank the Lord for the gift of life, holiness and doctrine of the Angelic Doctor.
The feeling that united us all was one of profound and joyful gratitude solemnised also by the beautiful homily delivered by the papal delegate, who traced the human and spiritual profile of the doctor communis in the light of his intellectual commitment, which has guided the preaching and teaching of the entire Dominican family for seven hundred years!
As the family of St. Dominic, following the glorious example of our illustrious confrere St. Thomas, let us continue to serve Christ in our brothers and sisters guided by our inner Master!
Anna Tatar, OP
ECLDF Formation Officer
Roman Province of St. Catherine of Siena, Italy
---
Le 18 juillet, la célébration en l'honneur de saint Thomas, à Fossanova, a été suivie par le frère Antonio Cocolicchio, OP, prieur provincial de la province romaine de Sainte Catherine de Sienne à laquelle appartenait l'Aquinate. Un groupe de frères, de moniales et de laïcs dominicains ont participé à la Sainte Messe avec le désir de remercier le Seigneur pour le don de la vie, de la sainteté et de la doctrine du Docteur Angélique.
Le sentiment qui nous unissait tous était celui d'une profonde et joyeuse gratitude, solennisée également par la belle homélie du délégué pontifical, qui a retracé le profil humain et spirituel du doctor communis à la lumière de son engagement intellectuel, qui a guidé la prédication et l'enseignement de toute la famille dominicaine pendant sept cents ans!
En tant que famille de saint Dominique, suivant l'exemple glorieux de notre illustre confrère saint Thomas, continuons à servir le Christ dans nos frères et sœurs, guidés par notre Maître intérieur!
Anna Tatar, OP
Responsable de la Formation à l'ECLDF
Province romaine de Sainte-Catherine de Sienne, Italie