Dominicos desde Barcelona
English version down – Version française ci-dessous
ORIGINAL IN SPANISH
Agradecemos a la Fraternidad de Barcelona (Provincia de Hispania) su colaboración en respuesta a la invitación que lanzamos para celebrar el mes de la Santa Familia Guzmán y Aza. Aquí os dejamos con su reseña:

El mes de agosto que acabamos de finalizar es un mes en el que la Orden de Predicadores celebra la fiesta de tres personas importantes de la Familia Guzmán y Aza: el día 2, Nuestra Abuela la Beata Juana de Aza; el día 8, Nuestro Padre Santo Domingo de Guzmán; y el día 18, Nuestro Tío el Beato Manés.
En España, las Fraternidades de Santo Domingo de la Provincia de Hispania – que son muchas – cada una organiza sus propias celebraciones. En el mes de agosto muchos hermanos están de vacaciones; motivo por el cual es más complicado poder encontrarse para los tres días.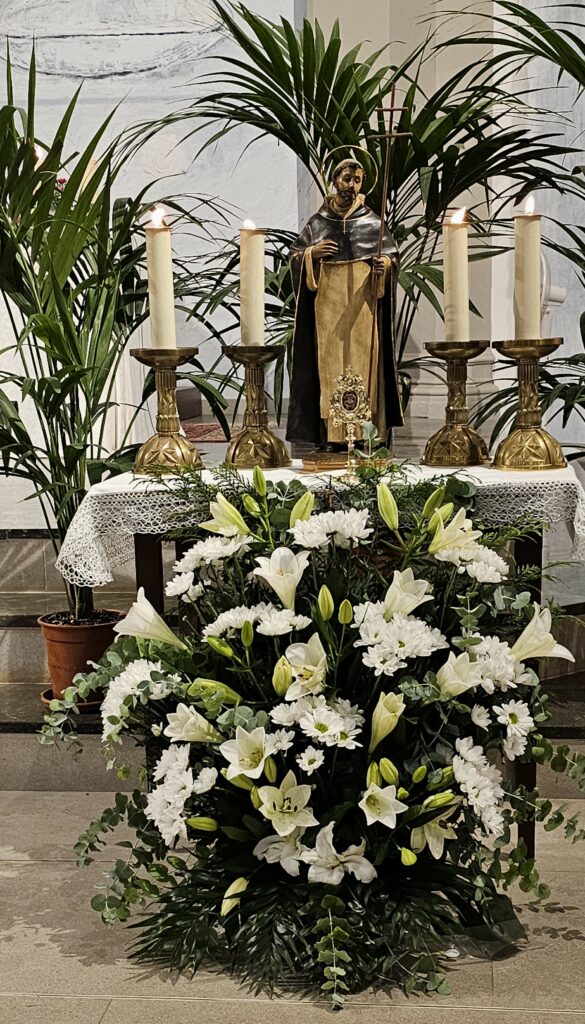 La Fraternidad Laical de Santo Domingo de Barcelona quiso unirse con los frailes del Convento de Santa Catalina Virgen y Mártir, donde está ubicada la Fraternidad, para compartir juntos la Fiesta de Nuestro Padre Santo Domingo.
El día 8, a las 19.30 h se rezó el Santo Rosario y, a continuación, la Eucaristía presidida por el superior fr. Enric Casellas; concelebraron los frailes fr. Alejandro López, fr. Pedro Sánchez y fr. Dominik Jurczak.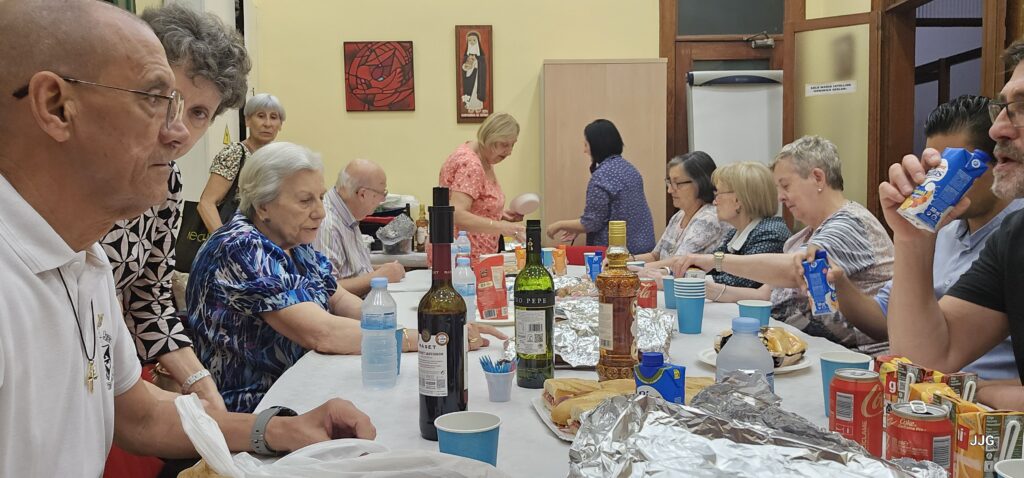 La jornada finalizó con una cena fría en la sala del convento donde se reúne normalmente la Fraternidad. Como siempre reinó un ambiente estupendo, distendido y divertido.
D.ª Montserrat Palet Dalmases, OP
Fraternidad Laical de Santo Domingo de Barcelona
Provincia de Hispania
---
We thank the Fraternity of Barcelona (Province of Hispania) for their collaboration in response to the invitation we launched to celebrate the month of the Holy Family Guzmán y Aza. Here we leave you with their review:
The month of August that we have just finished is a month in which the Order of Preachers celebrates the feast of three important persons of the Guzmán y Aza Family: on the 2nd, Our Grandmother Blessed Juana de Aza; on the 8th, Our Father Saint Dominic de Guzmán; and on the 18th, Our Uncle Blessed Manés.
In Spain, the Fraternities of St. Dominic of the Province of Hispania – of which there are many – each organise their own celebrations. In the month of August many friars are on holiday, which makes it more difficult to meet for the three days.
The Lay Fraternity of St. Dominic in Barcelona wanted to join with the friars of the Convent of St. Catherine Virgin and Martyr, where the Fraternity is located, to share together the Feast of Our Father St. Dominic.
On the 8th, at 7.30 p.m., the Holy Rosary was recited followed by the Eucharist presided by the superior fr Enric Casellas, concelebrated by the friars fr Alejandro López, fr Pedro Sánchez and fr Dominik Jurczak.
The day ended with a cold supper in the friary hall where the Fraternity normally meets. As always, the atmosphere was wonderful, relaxed and fun.
Ms. Montserrat Palet Dalmases, OP
Lay Fraternity of St. Dominic in Barcelona
Province of Hispania
---
Nous remercions la Fraternité de Barcelone (Province d'Hispanie) pour sa collaboration en réponse à l'invitation que nous avons lancée pour célébrer le mois de la Sainte Famille Guzmán y Aza. Nous vous laissons ici leur compte-rendu :
Le mois d'août que nous venons de terminer est un mois au cours duquel l'Ordre des Prêcheurs célèbre la fête de trois personnages importants de la Famille Guzmán y Aza : le 2, notre grand-mère la bienheureuse Juana de Aza ; le 8, notre père saint Dominique de Guzmán ; et le 18, notre oncle le bienheureux Manés.
En Espagne, les Fraternités Saint Dominique de la Province d'Hispanie – qui sont nombreuses – organisent chacune leurs propres célébrations. Au mois d'août, de nombreux frères sont en vacances, ce qui rend plus difficile la rencontre des trois jours.
La Fraternité Laïque Saint Dominique de Barcelone a voulu se joindre aux frères du Couvent Sainte Catherine Vierge et Martyre, où se trouve la Fraternité, pour partager ensemble la fête de Notre Père Saint Dominique.
Le 8, à 19h30, le Saint Rosaire a été récité, suivi de l'Eucharistie présidée par le supérieur fr Enric Casellas, concélébrée par les frères Alejandro López, Pedro Sánchez et Dominik Jurczak.
La journée s'est terminée par un dîner froid dans la salle du couvent où la Fraternité se réunit habituellement. Comme toujours, l'atmosphère était merveilleuse, détendue et amusante.
Mme Montserrat Palet Dalmases, OP
Fraternité laïque Saint-Dominique de Barcelone
Province d'Hispanie